Professional Interior Painting Company
Many people want to repaint their home or business but put it off because it's too much of a hassle or they don't have time. That's why you can't go wrong hiring professional painting contractors to do it for you. The team at Colo Painting & Remodeling are experienced painters who are ready to take on any painting project, commercial or residential. Whether you're looking for house painters or large-scale commercial painting services, we can handle anything.
Bathroom, Living Room, and Kitchen Painting — and more!
We make sure to work carefully and thoroughly all throughout each interior painting project. We start by taping and covering surfaces that need protection, including your furniture. Once everything is protected from drips and dust, we start by spackling or caulking any holes or gaps in the walls. This saves you the trouble and also ensures a smooth work surface for our painters. After that, we'll clean the work area to ensure solid paint adhesion.
Following this prep work, it's time for primer! This smooths the area and gives it a more uniform look, allowing for a better-looking finished product. After the primer has dried, the painting can begin. We apply two coats of paint to all work areas to ensure complete and even coverage. Depending on the color of the wall being repainted (for instance, if we're going from a dark paint color to a lighter one), your project could take more coats.
Finally, once everything is complete, we remove our tools and work materials and clean up after ourselves. Then we walk through the building with you to ensure you're satisfied with our work; if we missed a spot, just let us know, and we'll make it right. If you have any questions about our process, feel free to ask!
Door, Trim, and Cabinet Painting Services
Once the broad strokes of the room are done, we can also handle the detail work. We'll repaint your doors, trim, cabinets, and anywhere else that needs a little extra attention. We can also handle drywall repairs and replace baseboards, molding, and other elements of your walls and ceiling. We'll remove or install wallpaper, add finishes to your paint job, and even remove popcorn ceilings. If you aren't sure whether we offer the service you need, feel free to ask.
No matter which room in your home or business needs a fresh paint job, we have you covered. No job is too big or too small for our team. We look forward to making your property look its very best!
Skilled and Friendly Interior Painters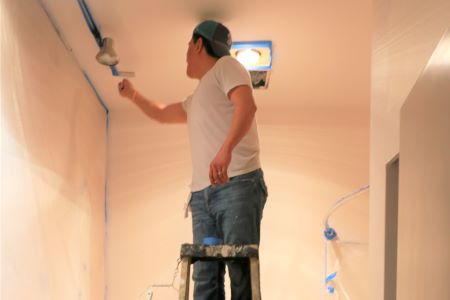 At Colo Painting & Remodeling, we don't just focus on doing a high-quality paint job; we also prioritize an exceptional experience for our customers. The most important part of our work is ensuring that each and every client we work with is happy with the end result. As a small, family-owned business, we pride ourselves on our ability to pay specific individual attention to every client. Our dedication to high-quality service and customer satisfaction truly sets us apart from any other Seattle painting company.
For any commercial or residential painting, interior or exterior, you can count on our professional painters to get the job done efficiently and to your complete satisfaction. If you have any questions during the process, feel free to ask; our team of friendly painters will be more than happy to answer them. Take a look at our gallery page for a sample of our successful jobs and happy customers, and give us a call today to get started! You'll be glad you chose us.