Friendly Local Home Renovation Company
The team at Colo Painting & Remodeling is wholly dedicated to helping our customers make their homes exactly the way they envision. That's why we also offer remodeling services! We look forward to helping with your remodeling project, whether it's as simple as new trim or baseboards or as complex as a new addition. Your home improvement project just got much easier!
We'll renovate any part of your home, inside or out. From detail work to complete new additions, our team is ready to bring your ideas to life. Here are just a few of the remodeling services we offer: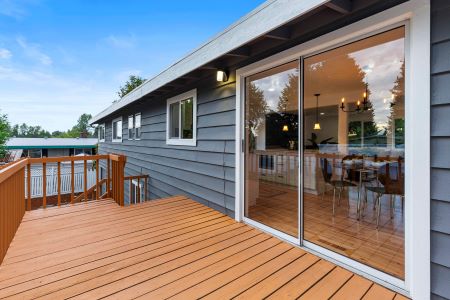 Custom cabinet and trim installation
New additions
Bathroom remodeling
Kitchen remodeling
New doors and windows
Siding, flooring, and tile installation
Decks and fencing
If you have any questions about our services, please don't hesitate to call us and ask. We pride ourselves on working closely with our clients throughout the building process, answering questions all the way. You'll be involved in the entire project, from the design process to the final walkthrough.
Bathroom and Kitchen Painting and Remodeling
A kitchen renovation can be a great way to improve your home's value and functionality. A beautiful kitchen remodel can make your home more comfortable and inviting; nobody wants to spend time in a cluttered, cramped kitchen, after all. Whether you want a simple cabinet painting job or you want to completely overhaul your kitchen's overall style, we can take it on.
The same goes for bathrooms, another common remodeling site. Whether your current bathroom doesn't fit your accessibility needs or you just want to change its style, there are many reasons you might want to revamp it. Renovating any room in your house can add value, but even if you're not planning on moving, it's still a good investment. After all, why not make your home the most comfortable place it can be?
We take care to protect all parts of your home before any demolition or construction begins. And we know just how annoying it is to clean up after sloppy construction workers, which is why we're so careful not to leave any mess behind us. We'll remove all our tools and supplies and then vacuum and sweep until your newly-renovated area is dust-free. We want you to enjoy your renovation as soon as possible, so we always do the best job possible. And once we're done working, we'll walk through the renovated area with you to ensure you're completely satisfied.
Drywall Services and Installation
Drywall damage is always a pain. Handling the repairs on your own as a cost-saving measure might sound tempting, especially for minor damage, but there's always a chance that a DIY job could fail. For drywall repair, it's always a good idea to call in experienced professionals. That way, there's a much better chance of success, and if any construction defects arise, they can come again and fix it for you.
The Colo Painting & Remodeling team is dedicated to customer satisfaction, so you can be sure we'll make sure your drywall service is completed properly. Whether it's just a little patch job or a full installation, you can count on our skill and attention to detail to get everything back in good shape.
Skilled and Personable Home Addition Contractors
We know how important your home is to you. That's why when you choose us to take on a project, we'll make sure it's done right. Your home is an investment, but most importantly, it's the place you live. That's why we'll treat it with the care and attention it deserves. We'll work with you to create a plan that fits your budget and your schedule.
Meeting customer expectations isn't just our goal — it's our company standard. We involve you in every step of your remodel project, and we don't call a job complete until you're happy with the work we've done. We're a small business, which makes us uniquely able to work closely with each and every client. That's what sets us apart from other Seattle remodeling contractors. It's not just about building; it's about the people you're building for. We strive to provide a wonderful experience for every client.
Give us a call today to get started. We look forward to adding you to our long list of happy customers!