Exterior Painting Services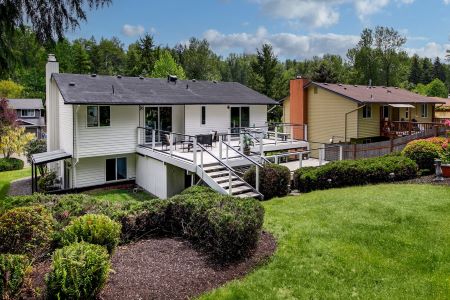 Sooner or later, every property owner will need to update their exterior paint job. Whether you're a homeowner trying to add some curb appeal or a business owner freshening up your building's look, there are plenty of reasons for a new coat of paint. Whatever your reason, the professional painters at Colo Painting & Remodeling are ready to help you meet your goals.
We strive for 100% client satisfaction in every job we take on. If you have any questions or concerns whatsoever, don't hesitate to bring them up. Our work is only done when you're completely happy with it!
Expert Business and House Painting
As a small business, we pride ourselves on the ability to pay close personal attention to each project we take. Our quality workmanship and friendly service set us apart from other painting companies. We always take time to really get to know our clients and their expectations for our work. Transparency and responsiveness are the most important parts of a quality job, and our professional team is always ready to address any questions or concerns. You'll be glad you chose to work with us!
Our team of professional painters has 20 years of combined experience, and we bring our all to every project. With high-quality paint and a focus on communication and efficiency, we have what it takes to measure up to any customer's expectations — commercial and residential clients alike.
Friendly Local Exterior Painters
Our exterior painting services start with pressure washing the exterior surface of the building, removing any dirt or moss growth. A clean work surface ensures the best possible paint adhesion. Once the exterior is prepared, we'll cover the windows and any other surfaces with plastic to protect them from drips. We'll also sand your siding if needed, and replace any damaged parts. Then, we'll inspect windows, doors, and any other surfaces for gaps. We'll patch these before we start painting. These minor repairs make the painting process easier, in addition to being convenient for you.
Once that's done, we'll prime and paint the surface. This includes trim and doors. When the work is done, we perform a thorough inspection ourselves to ensure we didn't miss any spots. Then we'll clean up after ourselves and finally walk around the building with you. If you aren't happy with our work, we'll make it right. The most important thing to us is that our customers are completely satisfied, so we're more than happy to touch up any part of our work to make that happen.
Professional and Personable Exterior Painters
Our team approaches every painting project as if we were painting our own home. Excellent customer service is our top priority in everything we do. We are family owned and operated, meaning we can give every single client the attention they deserve. Whether you know exactly how you want your home or business to look or you'd like some advice, we can help; our painting professionals are enthusiastic about making your property look its very best.
When you work with the experienced professionals at Colo Painting & Remodeling, you can count on your job being completed on time and within your budget. No job is too big or too small; our team can handle them all. Give us a call to get an estimate on your exterior paint job!
Common Exterior Painting Questions
How often should I repaint the exterior of my house?
The frequency of repainting the exterior of a house varies depending on several factors such as the type of paint used, climate, and exposure to weather elements. As a general rule of thumb, you should repaint every 5-10 years.
What is the best time of year to paint the exterior of my house?
The ideal time to paint the exterior of a house is during the dry season, when there is low humidity and minimal rainfall. Typically, this is during the spring or fall.
How do I prepare the exterior of my house for painting?
To prepare the exterior of your house for painting, you should first clean the surface thoroughly, remove any loose paint or debris, repair any damaged areas, and prime the surface. This will ensure that the new paint adheres properly and lasts longer.
What type of paint should I use for the exterior of my house?
The type of paint you should use for the exterior of your house will depend on several factors, including the climate, the surface you are painting, and your personal preferences. Generally, it's best to use a high-quality, 100% acrylic latex paint that is designed specifically for exterior use.
How long does it take to paint the exterior of a house?
The time it takes to paint the exterior of a house depends on several factors, such as the size of the house, the complexity of the design, and the weather conditions. As a general guideline, it can take anywhere from several days to several weeks to complete an exterior painting project.